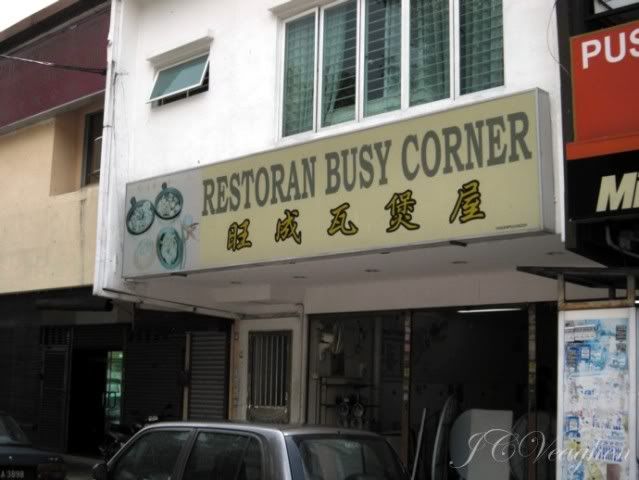 Couldn't remember how I got to know about Busy Corner at Damansara Jaya. It must be my colleague who brought me here last time.. and that's more than 10 years ago :p I remember back then, Busy Corner was really 'busy' cuz' it's always crowded with people during lunch and dinner time. Since our office was not too far away, we sometimes go to Busy Corner for lunch.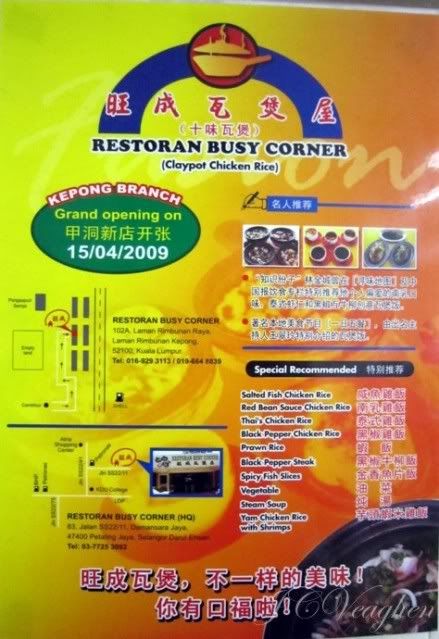 One of the small posters on the wall
Since then, we've been eating here whenever we feel like having claypot chicken rice, also cuz' it's kinda near to where we're staying.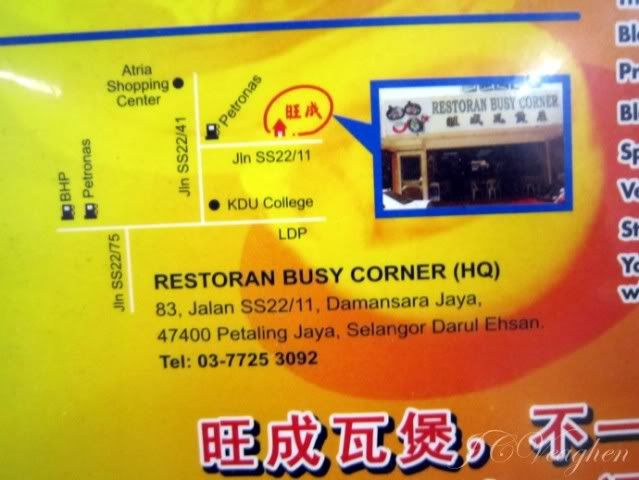 A closer look at the location
Unlike the usual claypot chicken rice, Busy Corner serves not just that. You can pick different flavours (original, black pepper, spicy, red bean sauce & Thai sauce) to go with the different meat (chicken, beef, prawn & fish).
Check out the list with price and also opening hours. Hmm.. I remember they're closed on 1 week day (can't remember which day.. could be Tuesday?) but it's not stated here. Maybe they're open for business everyday now?
I have tried almost all the different combination except for beef tho'. Shall try that one day with black pepper sauce. They also serve steamed soup and vege (look yau choi).
Somehow, in our recent visit to Busy Corner on a Sunday afternoon, it wasn't crowded (maybe cuz' it was near to closing time for lunch :p) and don't know why we didn't have that 'feel' for the rice. Maybe it's bad-rice day? lol (like a bad-hair day :p)
Anyway, we ordered 2 different flavours:-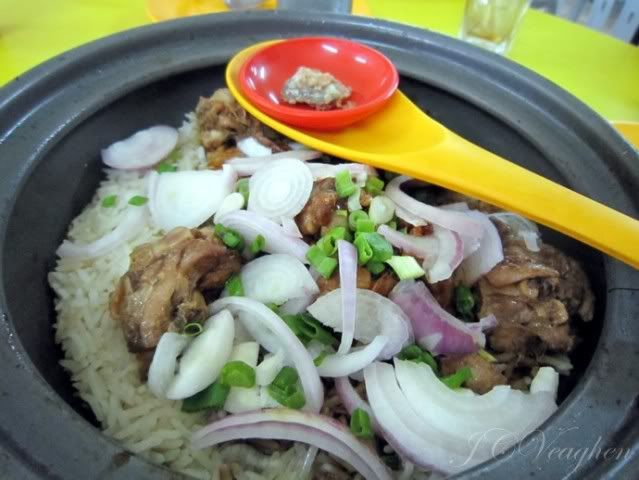 Original Claypot Chicken Rice with Salted Fish
After mixing
Claypot Prawn Rice with Thai sauce
After mixing... spotted quite a number of big prawns
There were only 3 of us.. so go figure how full we were after that :p I hope the Busy Corner will remain busy and maintain the food quality.